The 1989-90 season was not one to remember for most Fulham fans. Within twelve months of challenging for promotion, the club dropped to the other end of the table. They escaped the ignominy of relegation to the Fourth Division for the first time only on the final day of the season when Cardiff City failed to win. It was a collapse in the last third of the season that put the Whites in peril. They won just one of their last thirteen matches, and dropped from 12th to within a point of the League basement. During this poor run, Alan Dicks, coach at Jimmy Hill's Coventry in the 1960's, took on a consultancy role. The following season, he became manager whilst Ray Lewington became club coach.
This was also the season when the future of Craven Cottage seemed more important than what happened on the pitch, with controversy surrounding the local council's compulsory purchase order and the club's agreement with property company Cabra.
When the season began, Fulham had already lost the services of Doug Rougvie to Dunfermline, Robert Wilson to Huddersfield Town and Michael Cole had sustained a serious back injury. Crystal Palace's Gavin Nebbeling arrived to fill the gap in the centre of defence and Dunfermline striker John Watson came south as Rougvie went north. With the team struggling, Ray Lewington added to the squad. He signed striker Steve Milton from non-League Whyteleafe, and defenders Mark Newson and Martin Pike from Bournemouth and Sheffield United respectively.
Injuries clearly contributed to the club's difficulties, particularly to Glen Thomas and Gordon Davies. Only three players had played more than 40 matches, and included in the 30 used were three loan signings, two non-contract players, manager Lewington and his assistant Gary Peters. Altogether, there were thirteen players whose total appearances were in single figures.
League table
Edit
Starting XI
Edit
Coaching staff
Edit
Medical staff
Edit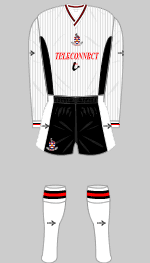 Away kit
Transfers
Edit
Players in
Edit
Players out
Edit
Loans in
Edit
Loans out
Edit
Pre-season
Edit
Additional friendlies
Edit
| | | | | | | |
| --- | --- | --- | --- | --- | --- | --- |
| # | Date | Opposition | Venue | Result | Score | Additional Information |
| | | | | | | |
| --- | --- | --- | --- | --- | --- | --- |
| # | Date | Opposition | Venue | Result | Score | Additional Information |
League Cup
Edit
| | | | | | | |
| --- | --- | --- | --- | --- | --- | --- |
| # | Date | Opposition | Venue | Result | Score | Additional Information |
| | | | | | | |
| --- | --- | --- | --- | --- | --- | --- |
| # | Date | Opposition | Venue | Result | Score | Additional Information |
Statistics
Edit
Appearances & goals
Edit
No.
Nat
Pos
Player
Total
Third Division
FA Cup
League Cup
League Trophy
Apps
Goals
Apps
Goals
Apps
Goals
Apps
Goals
Apps
Goals
Top scorers
Edit
Includes all competitive matches. When total goals are equal, the list is sorted by player who gained that number first
Includes all competitive matches. When total assists are equal, the list is sorted by player who gained that number first
Disciplinary record
Edit
Includes all competitive matches