The 1906-07 season was Fulham's 24th of competitive football and last in the Southern League. The club finished top in both the Southern League Division One and Western League, making it one of Fulham's most successful seasons up to this point.
Although the title race was closer than the previous year, Fulham again emerged as champions. The margin this time was just two points, but with a mere five defeats in 38 matches, few could deny the Cottagers' claim to top spot. They were more adventurous in 1906-07, scoring and conceding more goals - an extra 31 (but there were four additional fixtures). It was the home record again which provided the foundation of the success. At the Cottage, Fulham were beaten only once, and collected 31 out of a possible 38 points.
Harry Bradshaw made his usual adjustments to the squad, and again Scots featured prominently amongst the new intake. Centre forward Bobby Hamilton had won League and Cup honours with Rangers, and 11 Scottish caps, before joining Fulham in the 1906 close season. He was using his earnings to finance a university education, and he later rose to become Lord Provost of Elgin. Bert Kingaby, an Aston Villa winger who featured in a landmark regal case of transfers, was recruited by Bradshaw to replace Albert Soar. The newcomer who made the longest-lasting contribution to the Cottagers was Ted 'Taffa' Charlton, a full back from non-League football. He was still in the side after the First World War.
The team virtually picked itself. There were 12 of the 23 players used who appeared in more than half the matches, ten featuring in two-thirds. Fryer was still unchallenged for the goalkeeper's position, and full backs Ross and Thorpe and half backs Collins, Morrison and Goldie all collected a second championship medal. Charlton also played enough games as cover to qualify for a medal. There were, however, three new forwards - Kingaby, Freeman and Hamilton, playing alongside Fraser and Threlfall. Jack Fryer and Bill Goldie were the only two to have been regulars in each of the club's four Southern League First Division seasons, a phase that ended in the summer of 1907 with Fulham's admission to the Second Division of the Football League.
League tables
Edit
Section A
Edit
Coaching staff
Edit
Medical staff
Edit
unknown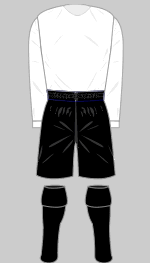 Transfers
Edit
Players in
Edit
Kingaby was still technically an Aston Villa player, he was prevented from moving to another Football League club and so joined Fulham
Players out
Edit
Editing in progress
| | | | | | | |
| --- | --- | --- | --- | --- | --- | --- |
| # | Date | Opposition | Venue | Result | Score | Additional Information |
| 1 | Mon 3 Sept 1906 | Chelsea | Home | Drew | 0-0 | |
| 2 | Mon 10 Sept 1906 | QPR | Away | Won | 1-0 | |
Editing in progress
Statistics
Edit
Appearances & goals
Edit
Top scorers
Edit